By Darshai Hollie, Spelman College CO' 2022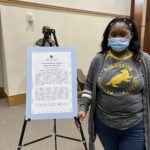 My name is Darshai Hollie and I am a graduating senior, majoring in History with a minor in Curatorial Studies from Spelman College.  My time at Spelman has deepened my interest and knowledge in curation and archives. Through this project I wanted to learn the behind the scenes development of an exhibition, how materials are processed and more. I am grateful to have the chance to work with the Atlanta University Center Robert W Woodruff Library (RWWL) Archives Research Center to create an exhibition that observed the Association for the Study African American Life and History's 2022 Black History Theme: Black Health and Wellness, that focused on the Health and Wellness of the Atlanta University Center (AUC) institutions over the years. I enjoyed conducting archival research and curating my exhibition to focus on the impact of mental health in the Black community, specifically the AUC and its community of students, scholars, and medical practitioners.
During this experience, I had the chance to select archival documents – including photographs, yearbooks, course catalogs, and newspaper clippings – which emphasized the history and treatment of mental health at the schools of the AUC.  While curating Health and Wellness within the AUC, I learned how to conduct archival research, create an exhibit narrative and how to caption archival documents. A challenging aspect of the exhibition was organizing over thirty selected archival items in an excel sheet.   Another challenge I encountered was narrowing down the selection of items that could actually be displayed. I had over thirty items but the cases were not big enough to hold all of the material. So I had to pick about fourteen items to showcase the activities and initiatives the AUC community took to be mentally and physically well over the last century.   The best part of this experience was learning how to mount the materials.  I had the chance to use a sealing iron, paper trimmer machine, and heating press machine. I had fun displaying the materials in the cases, and finding ways to organize the material to best tell the story.  I really enjoyed my time at the AUC Robert W Woodruff Library Archives Research Center and I want to thank Martina Dodd and Tiffany Atwater Lee for giving me this great opportunity. I hope to use these skills and experiences for future work.