On November 25th, the GLAM Center for Collaborative Teaching and Learning held the last faculty development workshop of the semester at the Spelman College Archives. The primary mission of the archives is to collect, preserve, organize and make accessible historically significant documents and other materials reflective of the College's origins and development as well as the activities of its constituents and affiliates.
During the workshop Holly Smith, Spelman College Archivist, showcased ways to engage and collaborate with the College Archives for inclusion in undergraduate and/or graduate curriculum. Smith has worked closely with faculty and staff here at the AUC as well as other neighboring Atlanta based institutions to fulfill their mission through thoughtful course collaboration and instruction sessions. Smith shared steps on how to successfully utilize the archives, including scheduling consultations with the archivist before the start of the semester to discuss objectives and reviewing the finding aids online to become familiar with the scope and contents of each relevant collection.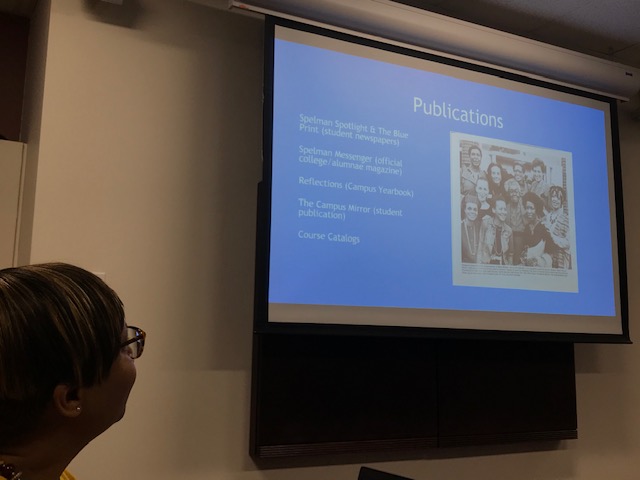 She also gave four examples of class assignments created by faculty and/or herself that foster deep engagement with the college archival records. Including a collaborative course instruction between Emory's Rose Library and the Spelman College Archives which utilized archival collections from both institutions that focused on Black women writers; such as the Toni Cade Bambara collection, Audre Lorde collection, Alice Walker papers, and Pearl Cleage papers.
If you are interested in learning more about the Spelman College collections or would like to schedule a consultation with Holly Smith, you can contact her at hsmith12@spelman.edu.